Meet TICC's new choir director since May 2022: Steffen-Michael Bücher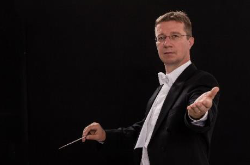 Steffen Bücher really received his musical inclination from the cradle, since his grandparents were pianists, a renown piano duo heard throughout the concert and broadcasting worlds.
Already at the age of five, Bücher received his first piano instruction. In 1987 he won his first prize at the "Jugend musiziert" competition. This was followed by awards such as the "Begabtenförderung" of the city of Ladenburg, selection for MDR television recordings of Bach's Christmas Oratorio in Halle in 1996 as well as other top prizes and scholarships.
He is a graduate in studies of piano, voice, and conducting. In addition to his artistic-academic training, Bücher completed teacher training studies in both music and physical education, completing both first and second state examinations.
His extensive studies have been rounded out by master classes with such notables as Sir Colin Davis, Helmuth Rilling (Stuttgart), Thomas Choir cantor Georg Christoph Biller (Leipzig), Peter Feuchtwanger (London), Konrad and Rudolf Meister (Hanover/Mannheim), Oskar Milani (Nuremberg), and others.
Following years of performing in recitals and concerts with various orchestras as both soloist and conductor in both Germany and abroad, Bücher made his opera debut in 2002.
Besides being a versatile musical performer, he has also been engaged in several cultural enterprises, both in directorial and management positions. He currently works for the Hessian Ministry of Culture as well as for the Hessian Broadcasting Corporation, has been appointed to various committees, and is a juror for musical competitions.
In 2023 Bücher expects to complete his doctoral thesis at the neurological clinic of the medical faculty at the university in Heidelberg.