Advent anthems
On the second of Advent, the Evangelische Kirche Oberstedten/Oberursel again hosted TICC which was providing choral accompaniment for the worship service centered around the theme: Behold the Light – The Foreboding of Isaiah.
Time and venue
Sunday, December 4, 2022 – 10.30 am
Ev. Kirche Oberstedten
Kirchstraße 28, 61440 Oberursel
Machet die Tore weit – Lift up your heads, O ye gates
Advent concert in Frankfurt's Alte Nikolaikirche
TICC presented its first complete concert following two years of break due to Corona pandemic restrictions.
The choir, together with soprano Marion E. Bücher-Herbst and organist Lars Voorgang, presented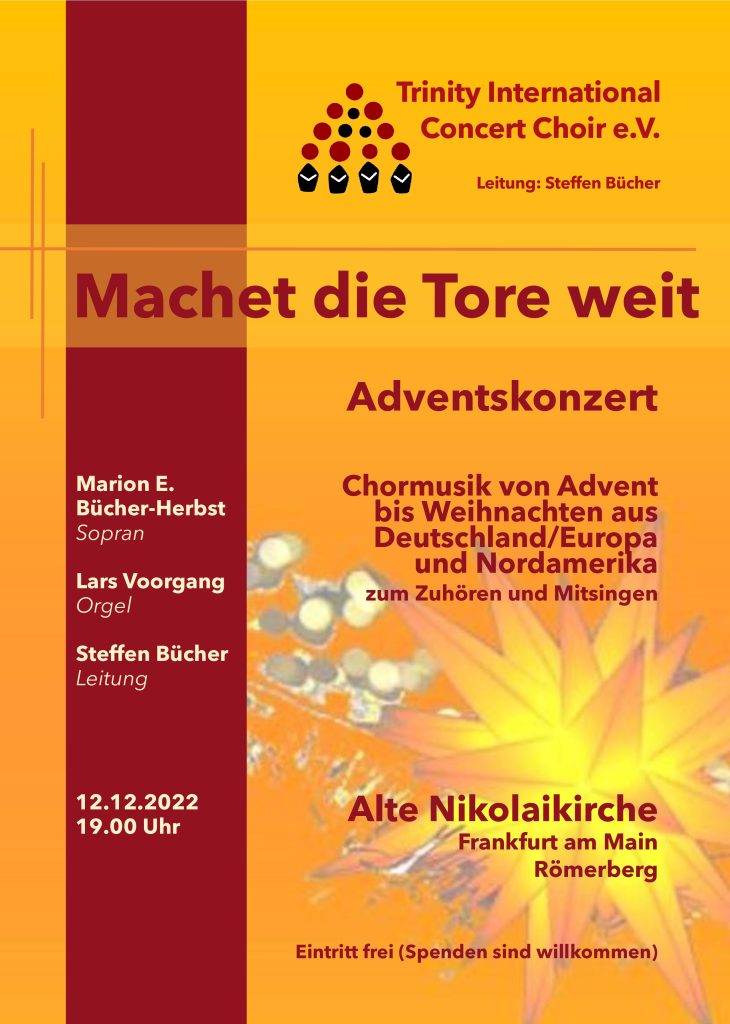 Advent and Christmas music from Germany/Europe and North America at the historic Alte Nikolai church in the heart of Frankfurt.
Time and venue
Monday, 12 December 2022 – 7 pm
Alte Nikolaikirche
Römerberg 11, 60311 Frankfurt
Performers
Lars Voorgang (organ)
Marion E. Bücher-Herbst (soprano)
Trinity International Concert Choir e.V.
Steffen Bücher (artistic director)