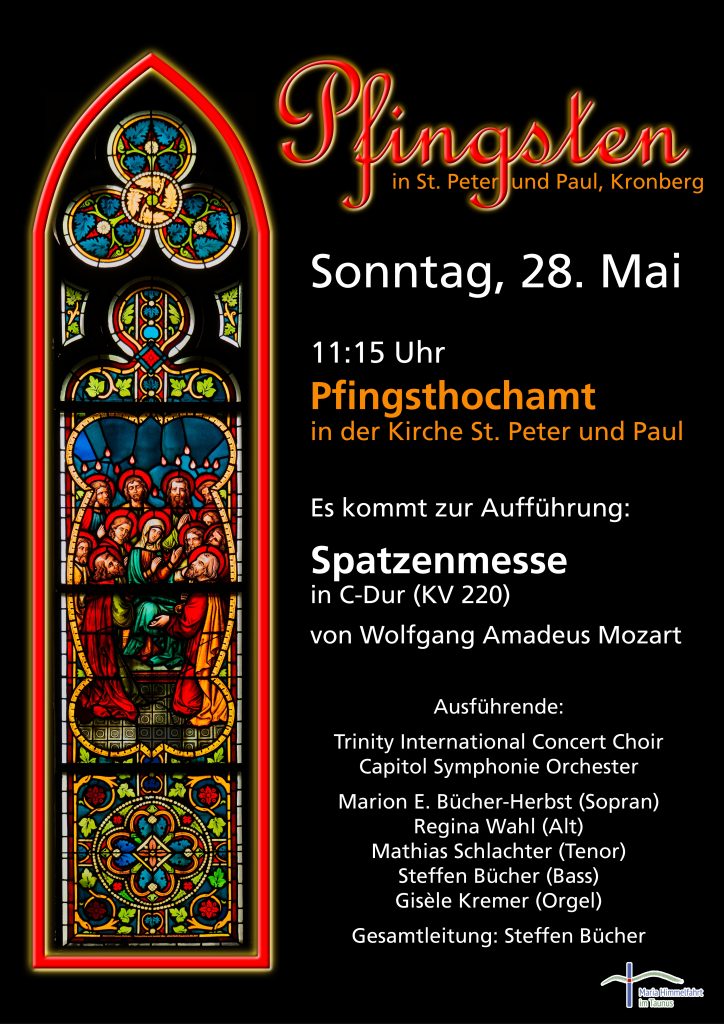 Exactly three weeks of preparation time from the idea to the performance – a novelty for TICC, a nice challenge and in the end a real success that gave us all a lot of pleasure!
At very short notice during the first week of May 2023, the Catholic parish of St. Peter and Paul from Kronberg approached our director Steffen Bücher with the wish to have the Whitsun High Mass accompanied by a mass by Wolfgang Amadeus Mozart. Although the preparations for our "Creation Project" were in full swing, he and the choir did not want to miss such an exciting interim project.
Two regular rehearsals (and intensive self-study by the singers) were followed by the dress rehearsal, and on Pentecost Sunday, 28 May 2023 from 11.15 a.m. we accompanied the service with a very successful performance of Wolfgang Amadeus Mozart's "Sparrow Mass" in C major (KV 220) and his Ave verum corpus (KV 618).
Time and venue
Sonntag, 28.05.2023 – 11.15
Kirche St. Peter und Paul
Katharinenstraße 5, 61476 Kronberg im Taunus
Performers
Marion E. Bücher-Herbst (soprano)
Regina Wahl (alto)
Mathias Schlachter (tenor)
Steffen Bücher (bass)
Gisèle Kremer (organ)
Trinity International Concert Choir e.V.
Capitol Symphonie Orchester
Steffen Bücher (director)